3:00 pm, Saturday, April 6, 2024
The Kody Norris Show and The Po' Ramblin' Boys

Tickets $40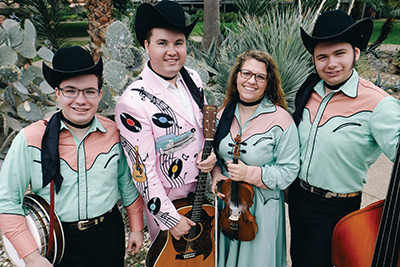 The Kody Norris Show is continuing the path of bringing Bluegrass Music to both core fans of the genre and new audiences. They are a youthful voice in Bluegrass music, and insiders have awarded them multiple IBMA & SPBGMA Nominations and wins in 2022 for Entertainer of the Year and Fiddler of the Year for Mary Rachel Nalley-Norris. The Kody Norris Show's album "All Suited Up" (2021) charted at #7 on the Billboard charts.
This talented group, made up of frontman Kody Norris, Josiah Tyree, Mary Rachel Nalley-Norris, and Charlie Lowman, finds themselves with a growing legion of fans craving the comfort that comes from their retro look, but equally craving dynamic instrumentation and thought-provoking lyrics – all of which can be heard throughout their epic new album Rhinestone Revival.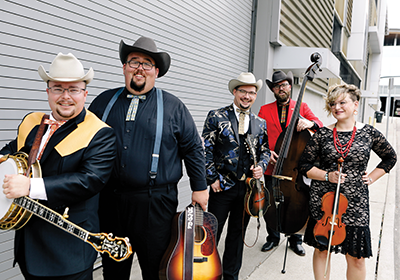 The Po' Ramblin' Boys: At a time when most people feel constantly distracted by technology and barraged by the news, authenticity and straightforward honesty are paramount. There's something about the music of The Po' Ramblin' Boys that cuts right through the noise of the world and speaks plainly to the soul. Formed in the Smoky Mountains, The Po' Ramblin' Boys are at once exactly what you would expect and not at all what you would expect from a tattooed East Tennessee Bluegrass outfit.
The Po' Ramblin' Boys passion for bluegrass is as clear as it is contagious. With a heavy touring schedule across the United States and Europe and recent Grammy Nomination with Rounder Records, the Boys are well on their way to becoming the quintessential bluegrass band of their generation.
Advance purchase recommended.
Tickets valid for this program only.
For additional information, please call (561) 655-2833 ext. 10
The Flagler Museum's Bluegrass in the Pavilion program is a Recipient of a 2018 Event of the Year Special Award Nomination from the
International Bluegrass Music Association.