Gilded Age Style Tea Service in the Railcar 91 Tea Room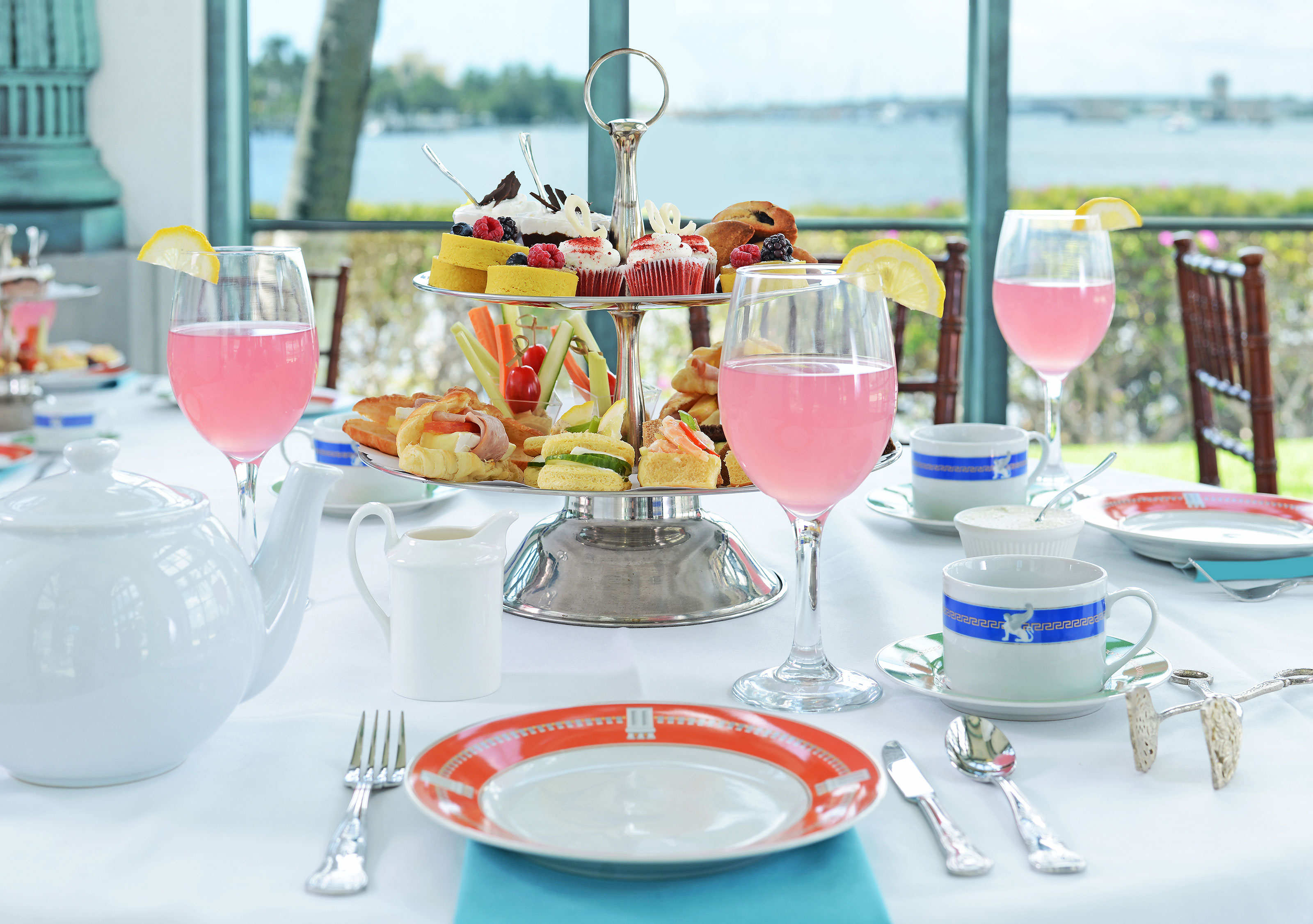 Open November 24, 2023 through March 31, 2024

Tuesday - Saturday Seatings at 11:30 am and 1:30 pm
Sunday Seatings at 12:00 and 2:00 pm
$40 per person for Museum Members
$36 for Museum Members at the Sponsor level and above
Price includes tea service, tax and gratuity

$66 per person for non-Members
Price includes tea service, tax, gratuity, and required Museum Admission

Advanced purchase is highly recommended.
Walk-ups will be accommodated on a space-available basis.
Purchase Tuesday - Saturday Tea Tickets
The Flagler Museum's Railcar 91 Tea Room offers afternoon tea in the Flagler Kenan Pavilion, alongside Henry Flagler's historic Railcar No. 91. Enjoy waterfront views of the downtown West Palm Beach skyline while enjoying a century old tradition of afternoon tea at Whitehall.
The prix-fixe menu includes a selection of savory sandwiches, traditional scones, and a variety of sweets, complemented by the Museum's own Whitehall Special Blend Tea™ and berry sweetened lemonade. Each table is set for service using exquisite Whitehall Collection™ china.
Valentine's Day Tea Information
PICNIC in the Cocoanut Grove
Tuesday - Saturday: 11:00 am - 3:00 pm
Sunday: 12:00 - 3:00 pm
Grab-and-go fare • Cold beverages
Seating is available outside in the Cocoanut Grove
Reservations are not required
If an afternoon Tea does not fit your schedule or meet your dietary needs, a delightful picnic lunch may be enjoyed in the breezy shade of the Museum's Cocoanut Grove. The following options are available for purchase in the H. M. Flagler & Co.TM Museum Store
 PICNIC Lunch $19
Chicken Club Sandwich Box
Grilled chicken with crispy bacon, tomato, lettuce, cheese, and garlic mayo on French bread
Mini Corn Salad, Chocolate Chip Cookie
Vegan Eggplant Sandwich Box
Eggplant, tomato, arugula, and pesto on French bread
Mini Corn Salad, Vegan Chocolate Cookie
Cheese & Charcuterie
An assortment of three artisan cheeses, guava jam, prosciutto
Crackers and Roll, Chocolate Chip Cookie
Beverage Options
Bottled Water $2.50. Harney and Sons Organic Lemonade, Harney and Sons Iced Tea, $3.75
Dessert Options
Six Tropical Macarons $12
Peterbrooke Chocolate Bar $6
Peterbrooke Chocolate Medallions $6
Peterbrooke Chocolate Box Cameo $9
Food and beverages may not be brought inside by visitors to the Museum.